Automotive Prototyping Services
Rapid Automotive Prototyping Services
NP Electronics provides Automotive Prototyping services – Rapid Prototyping during all the phases of automotive product development
Automotive electronic content is facing rapid changes driven by the need for more fuel efficient, greener, safer, connected and secure vehicles. Powertrain, HEV/EV, chassis, advanced driver assistance and infotainment systems are significantly impacted by evolving vehicle architecture and subsystem definition, more powerful hardware MCUs and SoCs, increased software content, new wired and wireless networking requirements and the need for more testing in support of standards such as ISO 26262. Integrating prototyping automotive prototyping services solutions in the automotive supply chain development process enables automotive semiconductor, tier 1 and OEM companies to accelerate development, improve productivity, reduce costs and deliver higher quality from hardware and software to electronic control unit (ECU) and vehicles.
When many people think about an automotive prototyping consultancy and services, they assume it represents a single step in the validation process between the initial design of the product and the final production run.
In actuality, automotive prototyping plays a number of vital roles during the design validation process that culminates in manufacturing. An automotive prototype can be used to ensure that a product can be made, to decide on the types of materials that are best for a product, and to evaluate what types of equipment should be used to manufacture the part.
In other words, prototyping extends far beyond just a single phase in product development in the automotive industry. Automotive prototypes services are integral parts of the entire automotive engineering process that allow engineers to figure out how to make new automotive products that appeal to consumers, to convince stakeholders to invest in a new automotive product, and to ensure that a vehicle will be safe for end users.
Let's take a closer look at how prototyping is used during the phases of automotive product development: design validation, pre-development, production process validation, customer testing, safety testing, and manufacturing validation.
Are You Looking For The Best
Rapid Automotive Prototyping Consultancy & Services?

DESIGN VALIDATION PROTOTYPES
During the design validation phase, product engineers can use an automotive prototype not only to gain greater clarity regarding their designs and to validate that they can be made, but also to "sell" their concepts to stakeholders.
A prototype created during the design validation stage is rarely a complete, final model. Instead, rough prototypes made using cost-effective prototyping techniques, such as plastic injection molding, are used to create a simple physical object. This basic prototype can be used to visualize the concept and share information with the entire project team.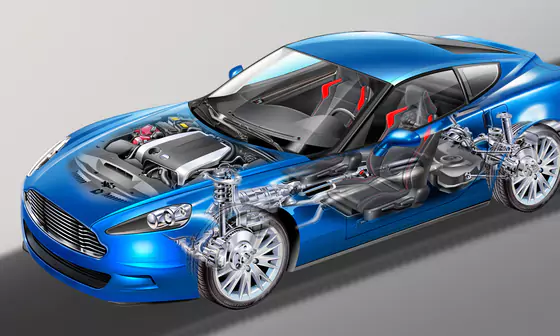 PRE-DEVELOPMENT PROTOTYPES
Once a design has been validated and there is buy-in from stakeholders and production teams, the early pre-development stage requires a more refined prototype to determine the usability of the product and to smooth over any design challenges.
Automotive engineers sometimes refer to this as the "mule stage." During this stage, engineers take donor cars, strip the vehicles down, and place the prototype products in the existing automobiles.
This strategy allows them to see how the automotive prototype will fit in the vehicle and interact with the other parts. It also gives them an opportunity to consider design alternatives that may work better.
PRODUCTION PROCESS VALIDATION PROTOTYPES
After the mule stage, automotive engineering next makes use of automotive prototypes services during the production process validation phase at the assembly plant.
CNC machining, metal stamping, and other metal forming and fabricating techniques are used during this phase to figure out the ideal methods for creating the final automotive product.
These types of automotive prototypes allow engineers to spot possible production problems as well as determine the most cost-effective manufacturing processes. Sometimes during this stage, it might be discovered that a manufacturing technique available at one plant is better suited to handle the production of an automotive product.
NP Electronics provides Vehicle Prototyping services – Rapid Prototyping during all the phases of automotive product development like design validation phase, pre-development prototypes, production process validation prototypes.
We also offer services for RLDA Data Acquisition, Vehicle Performance Consultancy, Benchmark Performance Service, Automotive Prototyping Services, Vehicle homologation consultancy, European EU homologation certification.
Rapid prototyping automotive
Rapid prototyping automotive industry is a process which allows for the quick and efficient creation of prototype parts for motor vehicles. By utilizing 3D printing and other advanced manufacturing techniques, companies can rapidly produce prototypes that closely resemble the end product. This process allows for a much quicker and easier way to test components and get them ready for production, saving time and money in the long run. Rapid prototyping automotive also helps to ensure quality in the final product, as any design flaws or issues can be identified and addressed early in the process.
Benefits of Prototype Automotive Services
Prototype automotive services offer many benefits, including cost savings, improved efficiency, and reduced risk. Prototype automotive services provide a safe and reliable way to develop and test a concept before committing to full-scale production. By utilizing the latest technologies, prototype automotive services can develop high-quality parts and prototypes that are accurate and reliable.
Prototype automotive services also offer the ability to customize parts and designs. This is especially useful for carmakers looking to create a unique look or feel for their vehicles. By working with prototype automotive services, carmakers can create customized parts and accessories that are tailored to their needs.
Prototype automotive services can also create parts and components for advanced driver assistance systems (ADAS). By utilizing the latest technologies, prototype automotive services can create reliable and accurate parts for ADAS systems, such as lane keeping systems, adaptive cruise control, and autonomous emergency braking systems.
Incoming Tag:- Prototyping Services, Automotive prototyping systems and solutions, automotive prototyping processes, EV prototyping services, EV prototyping services in india.
Frequently Asked Questions
utomotive prototyping is the process of creating a physical or digital model of a vehicle or vehicle component to test and evaluate its design, functionality, and performance.
es, NPElectronics can assist with sourcing components for automotive prototyping and can also provide recommendations based on their experience in the industry.
NP Electronics performs a range of testing and validation services for automotive prototyping, including functional testing, environmental testing, and compliance testing to ensure that the final product meets the required specifications and standards.
Rapid automotive prototyping is the process of quickly creating physical or digital models of automotive components or systems to test and evaluate their design, functionality, and performance.
Rapid automotive prototyping can prototype a wide range of components such as engine parts, exhaust systems, suspension systems, interior and exterior trims, and electrical systems.
Yes, rapid automotive prototyping can help in improving the overall design of automotive components by allowing designers to quickly create and test multiple design iterations and make changes or modifications as necessary. This can result in higher quality designs that meet customer expectations and industry standards.
Join us on the path to better, faster and stronger innovation