Vehicle Homologation Consultant
Homologation Consultant Services in India
NP Electronics offers vehicle homologation consultant services and solutions for ICAT Homologation Consultant services. We serve clients all over India. We also provide International Automotive Homologation Services in India. We are best agency for homologation of vehicles in India.
The International Centre for Automotive Technology (ICAT) ICAT Homologation Consultant – is a automotive testing, certification and R&D service provider under, Government of India. ICAT ICAT Homologation Consultant provides services like Certification, Design and Development, Testing and Validation Consultancy.
Why ICAT Homologation Consultant Matters
ICAT Homologation is a pivotal step for automotive players seeking to enter or expand their presence in the Indian market. Collaborating with an ICAT Homologation Consultant holds immense significance in this context. These consultants possess comprehensive knowledge of ICAT regulations and procedures, providing invaluable assistance in ensuring your products comply with the specified norms. With their guidance, you can navigate the rigorous testing and documentation requirements efficiently, significantly enhancing your chances of successful homologation and subsequent market penetration.
Benefits of Engaging an ICAT Homologation Consultant
Engaging the services of an ICAT Homologation Consultant brings forth numerous benefits. These professionals possess a deep understanding of ICAT regulations, ensuring that the homologation process is streamlined and conducted efficiently. we guide businesses throughout the process, from initial assessment to the final certification, reducing the risk of compliance-related setbacks. By leveraging their expertise, businesses can accelerate the homologation procedure, ultimately enabling them to introduce their products into the market in a timely and compliant manner.
VRDE Automotive Homologation Consultant
Vehicle Research and Development Establishment (VRDE) is involved in design and development of automotive systems for wheeled and light tracked vehicles, automotive chassis and trailers, engines for unmanned aerial vehicles, electric/electronic systems and controllers for vehicles.
NP Electronics offers services and solutions of VRDE Automotive Homologation Consultant
CIRT Homologation Consultant
Central Institute of Road Transport (CIRT), Pune is joint venture of the Ministry of Shipping & Transport & the Association of State Road Transport Undertakings. CIRT offers technical training, consultancy and automobile component testing services. CIRT provides testing facilities and many STUs, vehicle and component manufacturers make use of CIRT's testing facilities to evaluate the quality of components and spare parts they make and purchase.
NP Electronics offers services and solutions of CIRT Homologation Consultanc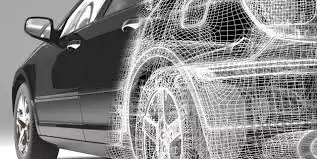 ARAI Homologation Consultant
Automotive Research Association of India, (ARAI) the leading automotive R&D organization of the country set up by the Automotive Industry with the Government of India.
ARAI Homologation Consultant has been assuring safe, less polluting, more efficient and reliable vehicles by being involved as a prime Testing and Certification Agency notified by Government of India under Rule 126 of Central Motor Vehicle Rules, 1989.
NP Electronics offers services and solutions of ARAI Homologation Consultancy
We assist you with all ARAI Homologation Consultant/ ICAT certification of all electric vehicles – E rickshaw, E scooty, E bike, E auto, E car and e truck.
Are You Looking For The Best
Homologation Consultant Services?
Automotive Homologation Services & Testing
In India following are the test agencies notified by Govt. of India, such as
Vehicle Research and Development Establishment (VRDE) VRDE Automotive Homologation Consultant of the Ministry of Defence of the Government of India (DRDO) or Automotive Research Association of India, (ARAI) Pune,
The Central Farm Machinery Testing and Training Institute (CFMTTI), Budni (MP),
The Indian Institute of Petroleum, Dehradun, or the Central Institute of Road Transport (CIRT), Pune,
The International Centre for Automotive Technology (ICAT)ICAT Homologation Consultant, Manesar,
SAE Global Standardization & Bureau of Indian Standards, Ministry of Consumer Affairs for WMI (World Manufacturer Identifier) / VIN.
Vehicle Homologation
We can assist you in navigating the process for vehicle type approval consultants and handle your approval process through various Test agencies approval authorities for Indian and International. We assist in preparing the vehicle, testing, documentation prior to submission of the vehicle for vehicle type approval consultants(CMVR Certificate).
We are renowned in India for our services like vehicle homologation, automotive homologation services, fca homologation, eu homologation, European homologation, e11 homologation, homologation consultant, homologation consulting, homologation services, vehicle Type approval certification consultants, automotive homologation testing, and automotive certifications.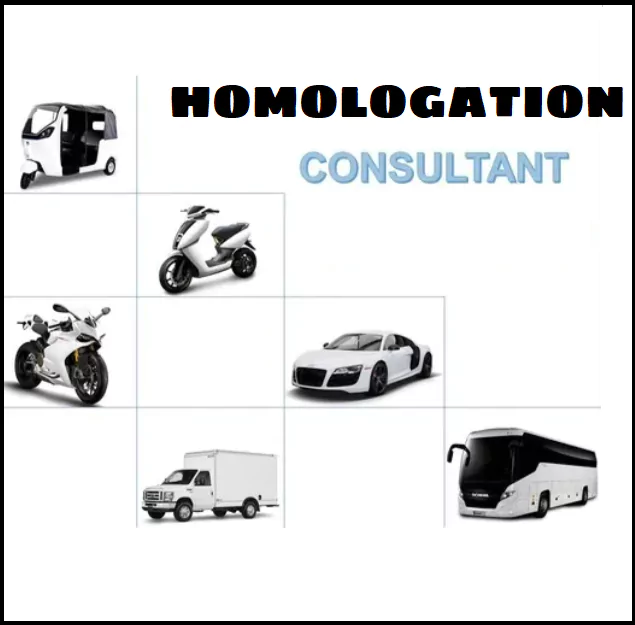 We can provide the below activities
Help you determine the technical and legal requirements for Indian markets
Identify the approvals you need, based upon our research results
Optimize the number and efficiency of the required tests.
Offer you specific advice on issues that may emerge due to gaps or unclear wording in the legal standards that provide the basis for testing.
Support you during the approval process, from the time of filing your application through to receipt of the approval certificates.
Assist you in the preparation of your manufacturer's documentation for Indian market.
Assist you to certify the vehicle level testing by third party such as TUV, VCA , Applus IDIADA,
The process of obtaining vehicle Type approval certification consultants can be a complex and time consuming.
We have experience in a wide range of automotive and its products. We are able to offer a diverse range of services to the automotive homologation services sector seeking type approval for its products. We also assist in obtaining variant or extension Certification for all category of vehicles.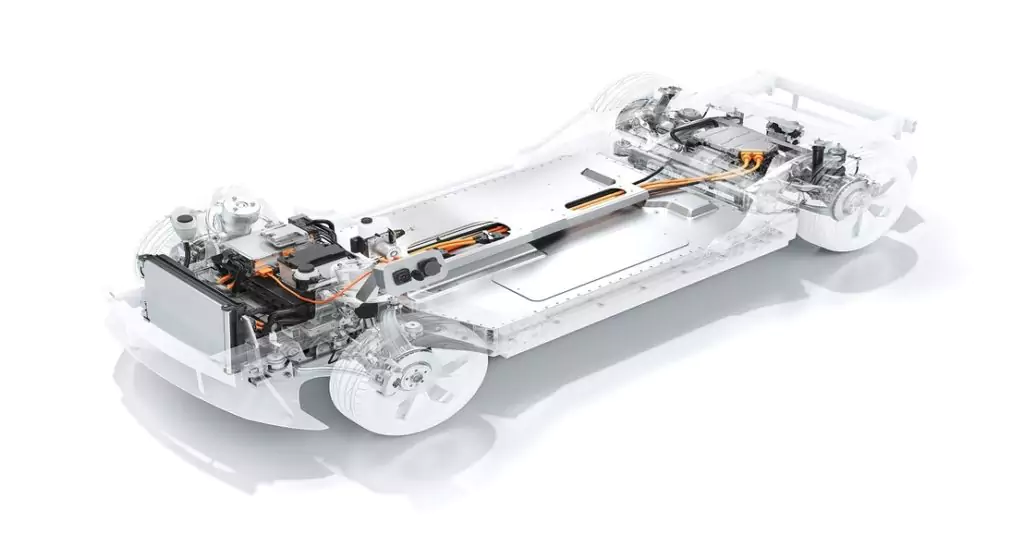 Our type approval expertise covers all vehicles from
Two Wheeler
Three Wheeler
Passenger Car
Light Commercial vehicles
Buses
Heavy Commercial Vehicles
CNG Vehicles
LPG vehicles
Electric vehicles / Battery Operated 2w,3w,4w ,Truck & Bus
Ethanol Blend vehicles
Hybrid Vehicles
Retro-fitment Electrical vehicles
All types of vehicles and its related components
NP Electronics can assist you to improve vehicle performance to meet today's and tomorrow's strict fuel economy and emissions regulations for electric vehicle design. NP electronics can help you improve the fuel efficiency of your fleet, saving you money and recouping your investment far quicker
Frequently Asked Questions
Automotive homologation is the process of certifying that a vehicle, component, or system meets the safety, environmental, and technical standards required by the applicable regulations and laws in a particular country or region.
Homologation regulations and requirements can be complex, and can vary from country to country. Working with a homologation consultant can help you navigate these requirements and ensure that your project complies with all applicable regulations, avoiding costly delays and potential legal issues.
The duration of the homologation process can vary depending on the scope of the project and the regulations involved. Our consultants can help you estimate the timeline for your specific project based on the requirements in the target markets.
Some common challenges include navigating complex regulations, understanding the requirements for each market, ensuring that technical documentation is accurate and complete, and coordinating with testing laboratories and other stakeholders.
Testing is a critical component of the homologation process, as it provides objective evidence that a product or system meets the applicable regulatory requirements. Testing can include a variety of different types of tests, such as performance tests, durability tests, and safety tests.
Working with a consultant can help you avoid costly delays and rejections by ensuring that your project meets all applicable regulations from the outset. Additionally, a consultant can help you identify opportunities for cost savings through efficient testing and certification strategies.
Expertly Managed Homologation Consultant Services You can trust
We are here to help you 7 days a week and respond within 24 hours.
Tags:- Automotive homologation services in india, arai homologation consultant, cirt consultancy services for e rickshaw, consultancy services for e-bike, ICAT homologation consultant, Automotive VRDE Homologation Consultant, vehicle homologation, vehicle homologation consultants, VRDE Automotive Homologation in india, vehicle type approval consultants, vehicle Type approval certification consultants, Automotive Homologation certification, Indian vehicle homologation service, Testing for whole vehicles, systems and components.